Universal tunnel drier "SL-02"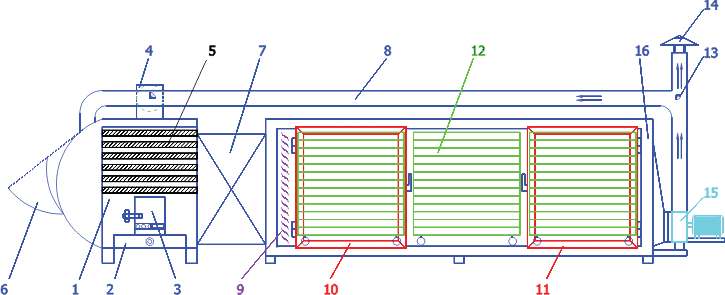 1. Boiler
2. Ashes container
3. Firebox door
4. Exhaust pipe
5. Pipe for heating air
6. Fresh air shutter
7. Front chamber
8. Air redirecting mechanism
9. Air directing lids
10. Air outlet (door)
11. Air inlet
12. Cart with wattles
13. Shutters for redirecting air
14. Air outlet
15. Radial vent
16. Insulation
Universal tunnel drier model "SL-02"
It is mainly used for drying mushrooms, but it could also be used for drying all sorts of fruit, vegetables, herbs and wild berries.

With this drier it is possible to dry plums as well, but first you need to replace the wattles (the wattles should be zinc-plated or made of chrome instead of PVC).

This type of drier uses solid fuel (wood, coal, etc.) to heat the air. The heated air, with the help of radial vent (picture 1) positioned at the opposite end of the tunnel, flows through the tunnel and dries the produce. The drier is equipped with a power box (picture 2) where all the necessary elements are placed (bimetals, switches, fuses, etc.). In the middle of the tunnel there is a thermostat probe supplying at any moment information on the current temperature in the tunnel. Thermoregulation inside the tunnel is done with the help of a shutter (6) which is placed on the case of the boiler (pictures 3 and 4) in the following way:

When the temperature is high the shutter opens, fresh air goes in and the temperature inside the tunnel drops (picture 3)

When the temperature is low the shutter closes, preheated air is pulled in and the temperature rises (picture 4)

The tunnel is made of insulating material (polyurethane) which is 60 mm wide. The boiler is separated from the tunnel by the means of a front chamber (7) the purpose of which is to spread the air equally over the whole tunnel so as to improve the quality of the drying process.

The drier is also equipped with a redirecting mechanism (8) which is used when you want to use the same air again.

The drier has a drying capacity of approximately 150-180 kg of fresh mushrooms per round (it takes 6 h for a round), or 700 kg per day.

There are three carts with wattles inside the drier (the wattles are made of PVC), while the fourth one is used for preparation. There are 21 wattles in one cart (picture 5).


The drier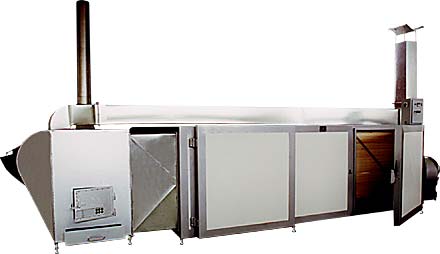 General characteristics
| | |
| --- | --- |
| Capacity | 150-180 kg per round |
| Length | 6500 mm |
| Width | 1400mm |
| Height | 1400mm |